The type of glass you have in your home or conservatory, can have an important impact, and the latest technology means you can upgrade your existing window units without removing your windows completely.
You may wish to change the glass in your windows for a number of reasons, whether it's to reduce your heating bills or you wish to have specific glass such as self-cleaning or tinted. You can choose to install energy efficient glass, not only to save money but also to reduce your home's CO2 output.
We can offer you advice on the best glass requirements for your needs, including options such as double or triple glazed units as well as toughened or laminated glass. We keep up with the latest technology to offer you the latest designs and styles, meaning you will only get the best from us. We can offer you a huge range of glass types, including the following: Self Cleaning Glass, Sound Reduction Glass, Obscure Glass, Low E Glass, Tinted Glass, Reflecting Glass, Double Glaze, Triple Glaze, Designer Glass, Argon or Krypton gas filled cavities.
We supply all profile manufactures products that conform to our very high standards. We generally recommend Duraflex Diamond bevelled Suite, with classic styling, that has great looks with its seamless sightlines. All our systems are internally glazed for improved security and designed to exceed all current standards, including thermal performance and enhanced security – all locking options conform to BS 7950 and BS 7413
Features of the Duraflex Diamond Bevelled Suite.
– Totally integrated 70mm system.
– Full depth Euro Groove that is compatible with most types of hardware.-
– Lowline gasket as standard.
– Full range of aluminium and steel reinforcement.
– Conforms to BS 7950 security standard.
– Complimented by a full range of ancillary products.
– Full range of co-ex bead styles capable of glazing 24mm and 28mm units.
– Common sightlines systems
– Internal glazing for better security.
– Dedicated reinforcement sections available for maximum strength.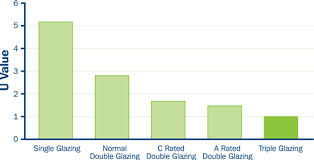 As you can see from the heatmap and the UV chart, Argon gas filled triple glazing is extremely thermally efficient with an U Value of 1