Building Regulations and Local Authority Building Control – all can be a bit of mine field? We can attend to all applications necessary on your behalf (small fee applies).
It should be pointed out that it is the home owner's responsibility to ensure that the work carried out and the materials used on alterations to the home, comply with the law. Also needed is evidence and test data can be produced, endorsed by an authorized body for the structural materials and building practices.
Our aim is to ensure that you specify the correct solution for your conservatory and do not breach any regulations. If incorrect roof modifications are made the roof will not meet all regulations and will therefore be potentially unsafe and be a waste of your time and money.
THE DANGERS OF NOT HAVING a Building Control Approved Roof
There are many structural dangers and downsides to not having a building control approved roof with LABC and JHAI certification.
Problems are common and range from mould and condensation through to a total roof collapse. Below we have tried to list just a small number of the pro's and con's between the different construction methods available.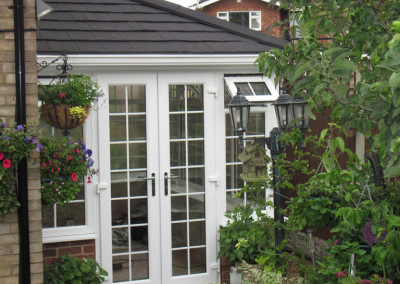 Local authority's permissions, unfortunately vary from one area to another, we would strongly recommend in all cases an application is made, it will also aid a smooth transition when selling the property.
Building Regulations conservatories and porches are traditionally lightweight and not generally designed to carry the weight of a solid roof; changing the roofs structure would mean a real possibility of movement or even collapse especially when additional wind and snow loads are added.
There are several ways to reroofing an existing
structure on the market.
One way is to wrap a new roof over and under the existing roofing system. However, this method is most likely to overstress the existing roof and wall structure and great care is needed. If the roof is an existing olycarbonate roof it is very unlikely this method can be done safely, you should not commit to any expense until you are satisfied that it will be safe and effective.
This method also has the potential to introduce a condensation roblem which will inevitably occur if plasterboard is applied to the underside of the existing roof with little or no insulation above it.
So, if you are offered this solution, you should make sure – the company quoting to complete the work can ensure the stability of the structure with the increased loading and that both you and the Local Building Authority Control team are satisfied with the structures adequacy.